Saturday, April 11, 2009
Playoff Offensive Levels 1968-2008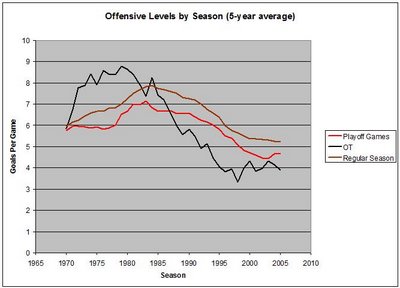 One unsurprising result here: there are fewer goals scored in the playoffs than during the regular season. If you're down by three in the second during the regular season, you'll probably rest your best players to keep them from getting hurt in a meaningless game. In the playoffs, there's no point, and no giving up.
But the OT scoring levels are surprising: throughout the 1970s and early 1980s, teams apparently played more offensively in overtime than they did during regulation. But the opposite has now been true for more than 20 years.
Comments:
I don't feel comfortable with your assertion that the earlier decades' style of play must necessarily have been more offensive in nature.
The only obvious conclusion that can be drawn from the graph is that overtimes were shorter back then. I think we can agree on that. However, your "style of play" assertion isn't necessarily the only explanation for this.
We know that goaltenders in those decades wore smaller gear. Also, Andy Moog asserts
here
that goaltenders nowadays are far superior athletically than their historic counterparts. It might just be that it was easier to sneak a chincy goal past a tired goaltender in those days, resulting in shorter OTs without a significant difference in the players defensive attitudes.
Your explanation could be accurate. It just seemed like a bit of a leap to me based on just that graph.
I know it's fashionable to say that teams play such a bottled-up defensive style nowadays. I don't think we should make those claims when they aren't fully supported.
Mojo - There's no reason to believe that "lucky" goals would account for a persistent difference in goal-scoring rate over several hundred games over almost 20 years.
If all playoff games are of equal importance, then a higher goal-scoring rate implies a more offensive style of play; lower goal-scoring implies more defense.
Post a Comment
Links to this post:
<< Home
Subscribe to Posts [Atom]